Meritsoft, a Cognizant company, has today announced the launch of its next-generation technology platform offering financial institutions advanced process automation capabilities. The new platform has been built leveraging the latest technologies to better support firms' post-trade processing requirements across fails management, financial transaction taxes (FTTs), CSDR penalty management, settlement efficiency, claims management, brokerage trade expense management, research, and commission sharing agreements (CSA).
Meritsoft's new platform is set to deliver even greater operational efficiency gains and cost optimisation opportunities:
It has been developed with an API-first design, in line with modern architecture principles and industry-standard methods of communicating data across systems. This offers users greater cost optimisation and operational stability, permitting seamless adaptability and interoperability of workflows.
Data generated by the platform can be interrogated, via the rich API suite, by machine learning engines and artificial intelligence tools to enable predictive analytics and improve overall performance.
The platform can be hosted in a public or private cloud environment according to client preferences. This offers real-time scalability to meet capacity requirements in response to fluctuations in workflow demand and a general move towards cloud deployments.
Beyond providing banks with considerable cost savings, its cloud deployment capability ensures more efficient resource utilisation, sparing the user from unnecessary energy consumption, computer power usage, and related data expenses.
If required, clients can receive regular and component-level system updates, eradicating the need for them to initiate disruptive large-scale system update projects.
Meritsoft's financial transaction tax management solution is the first of the company's offerings to be implemented on the new technology in line with the requirement of a number of clients to enhance their tax operations, and in readiness for changing transaction tax regimes and new rule sets as they emerge.
"We have channelled our extensive experience of delivering automated post-trade solutions into this new technology platform to deliver our most comprehensive and holistic solution to date. With capital markets participants facing an increasing number of challenges, such as shorter settlement cycles, rising interest rates and an increase in interest claims, and transaction tax implementations, it is important that institutions are armed with innovative and scalable technology to stay abreast of fast-moving markets, evolving regulatory requirements and client preferences."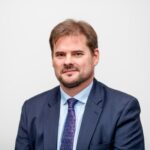 Daniel Carpenter
CEO, Meritsoft
To learn more, please get in touch MeritsoftCapMarkets@Cognizant.com.